Ewald Automotive Group & The Fisher House
On Wednesday July 20th The Ewald Family Foundation donated $1000 to the Fisher House. We took the grand tour and talked about future opportunities to assist Fisher House in their mission.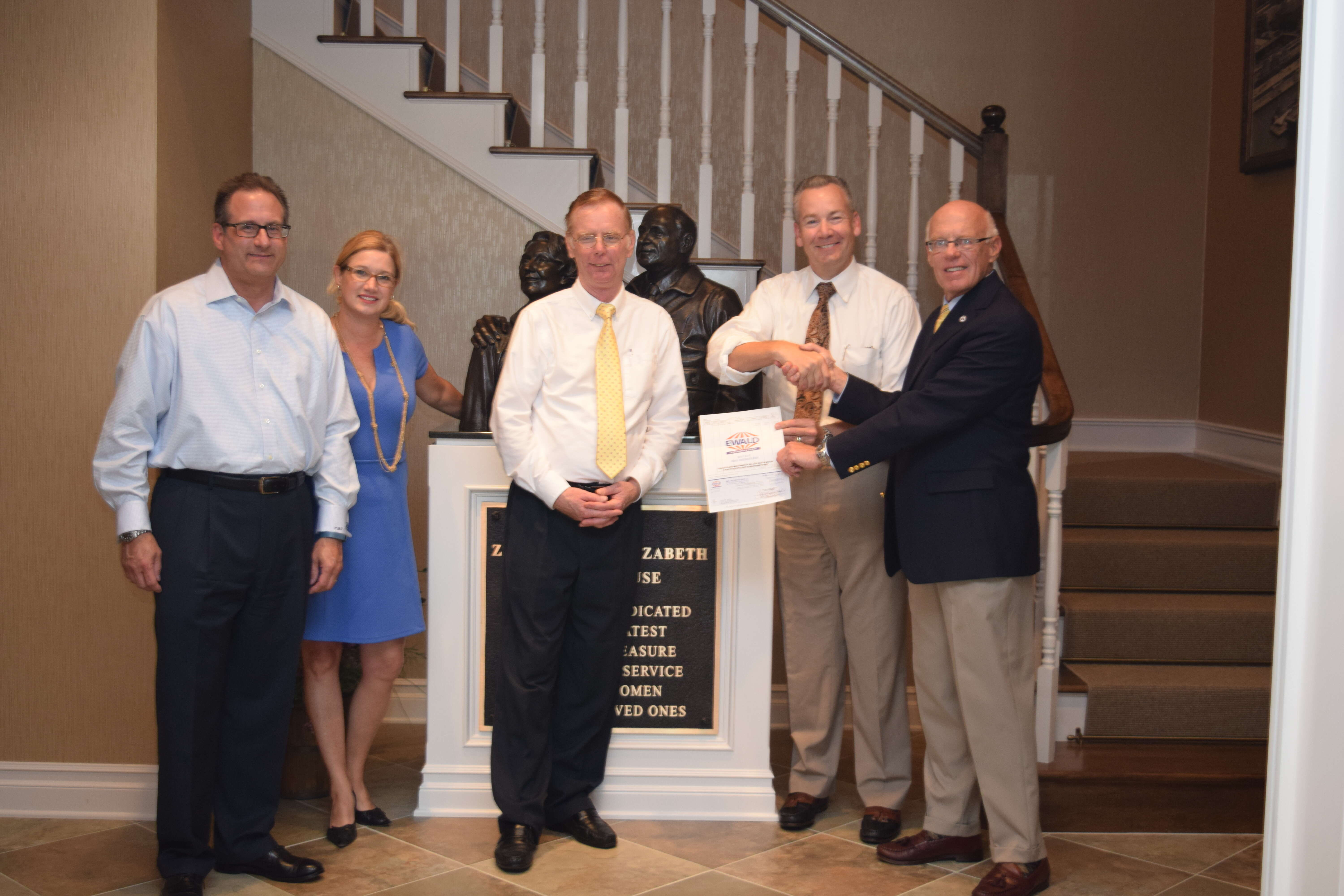 (From left to right)
Tim Frank
: Fixed Operations Director, Ewald Automotive Group, and USMC veteran -
Stephanie Bennett
: Director of Marketing, Ewald Automotive Group -
Antone Piculell
: Assistant Manager Milwaukee VA Fisher House -
Tom Ewald
: Managing Partner, Ewald Automotive Group -
Curtiss Peck
: Executive Director, Fisher House Wisconsin
About The Fisher House
Veterans from 26 states travel to the Milwaukee VA Medical Center for treatment at the Spinal Cord Injury (SCI) Treatment Center. Additionally, 10,000 Iraq and Afghanistan war veterans receive treatment at the Milwaukee VA Medical Center.
Families are required to live more than fifty miles from Milwaukee and show a financial need in order to qualify for accommodations at the Fisher House. In many cases, the primary wage earner in the family is the veteran who is hospitalized, resulting in significant financial burdens being placed on families. Families often have to choose between being near their loved one being treated at the hospital and remaining at home to provide some financial and emotional stability for the family. To reduce some of the financial burden, accommodations at the Fisher House are provided at no cost to qualifying families, because having family members near the hospitalized veteran is good medicine and contributes to their recovery. In addition to providing a home away from home for up to sixteen families, Fisher House Wisconsin provides food for the guests to cook and eat. The kitchen at the Fisher House has become the hub where family members come together for support. They prepare meals together, as well they hug, they cry and they laugh together. By providing food for the families, we are trying to reduce one more financial burden for veterans' families that have and continue to sacrifice so much along with their loved ones being treated at the Medical Center. The Fisher House was completely funded by donations. No tax payer money was used to build the Fisher House. Fisher House Wisconsin is a 501(c)(3) non-profit organization that continues to seek donations to help support the families and continued operation of the Milwaukee VA Fisher House.
---
Ewald Donates $50K to Veterans Memorial Park
VETERANS MEMORIAL PARK OF OCONOMOWOC
ANNOUNCES MAJOR GIFT
By Gary Rosenburg, Dec. 12, 2014
December 2014 (Oconomowoc,WI) - On Wednesday December 17th at 11:15 am, Ewald Automotive Group Chairman and World War II veteran, Emil Ewald will present a sizable donation to Kurt Schrang, co-chair of the Veterans Memorial Park of Oconomowoc at Ewald Chevrolet Buick at 36833 East Wisconsin Avenue in Oconomowoc.
Oconomowoc Veterans Park, located in downtown Oconomowoc on Lac LaBelle, was dedicated to veterans in 1983. In 2012, discussions took place between community organizers and veterans to improve the park and establish a significant memorial to veterans of all wars, and the name was formally changed to Veterans Memorial Park of Oconomowoc in November of that year. And thats when major fundraising began. Over 700 people attended the first fundraising dinner. And today, commemorative bricks featuring the names and service of veterans are available.
Fundraising continues with the Ewald Automotive Groups donation. This is an opportunity of a lifetime to give back to our community, said Emil Ewald, Chairman of the Ewald Automotive Group. As the effort developed, we pledged to help. We fervently believe in this type of project, because honoring our veterans will have a positive impact on the city of Oconomowoc and the entire Lake Country area.
Groundbreaking took place on November 15th with major construction to begin this spring,and Kurt Schrang, the co-chair of Veterans Memorial Park added. Once its been completed, the park will be maintained by a group of representatives from the Veterans of Foreign Wars, the Vietnam veterans and the American Legion, in addition to the city of Oconomowoc. We're all about honoring veterans from the area, and even though weve found almost 2,000 veterans through historical documentation, we know that there are hundreds more, that we're missing.
Mr. Ewald and Mr. Schrang concurred, It's all about honor.
The Ewald family has been committed to Oconomowoc and the surrounding Lake Country area for more than 40 years, living here, raising their families here and operating their family business here. Ewald Chevrolet Buick opened in 1981, followed by Ewald Chrysler Jeep Dodge Ram and Ewald Kia of Oconomowoc.
For more information about the Ewald Automotive Group or Veterans Memorial Park, contact Brian Ewald at bewald@ewaldauto.com or Kurt Schrang at theoldkraut@yahoo.com.
Ewald Automotive Group Cares
Ewald Automotive Group and all of our employees are proud to support many charities, fraternal and local service groups in the communities we serve. We believe that in order for our company to grow, it is essential that we give back in the areas we can.
Rotary International
Free Masonry
American Legion
Lions
Make A Wish Foundation of Wisconsin
YMCA
Folds of Honor
US Marines Toys for Tots
WATDA Foundation
Kiwanis
United Way
Boy Scouts of America
Girl Scouts of America
Local Food Pantries
Local Chambers of Commerce
Local Churches of All Denominations
Local Schools in Each Community We Serve